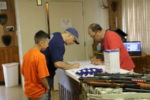 This gallery contains 17 photos.
Boy Scouts Of America – Troop 110 – Emmanuel Lutheran Church – Elyria, Ohio -Photos – Saturday, May 19, 2018
Youth Day at the range is a free class for the participants.  Fitchville Conservation League pay for this… Continue reading →

Introduction to Archery
On Saturday, July 15, 2017 the Fitchville Conservation League and its volunteer instructors offered an Introduction to Archery Class for the area communities. Over 35 students participated in the safety class and the live archery session. FCL… Continue reading

Fitchville Conservation League volunteer instructors hosted the Scouts from Elyria and Norwalk and their parents and leaders for a morning of  Archery,  Trap Shooting, Rifle and Pistol shooting.  The morning started out a bit after 9:00AM… Continue reading
3D Archery Shoot in the Woods – Sunday, August 16, 2015 – Registration: 8 a.m. to 12 noon – Finish by 2 p.m. $12 for adult archers, $5 for children shooter

s, $10 for FCL members.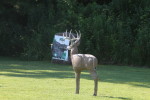 Thirty Three (33) youth and parents come to the Fitchville Conservation League on Saturday the 25th of July for the Introduction to Archery class.  A 30 minute safety lecture was… Continue reading →

3D Archery Shoot in the Woods – 30 Stations – Sunday, April 19, 2015 –
Registration – 8:00 AM – Noon (Finish by 2:00 PM)
New Course on 22 acres wooded area. McKenzie targets, rolling landscape,… Continue reading
Archery in the Woods Course  Saturday & Monday, March 7 & 9, 2015
Activity is to Cleanup the woods, remove trees as needed, Develop the trail into a workable Archery 3D shooting course. Bring Saws, shovels, rakes, etc.… Continue reading
Sunset Archery Coon Shoot, Saturday, January 17, 2014 – 5:30 P.M. 
January 17th Sunset Coon Archery Shoot was a big success.
We had 25 archers for the shoot on a quite pleasant evening. The shoot was held on the… Continue reading